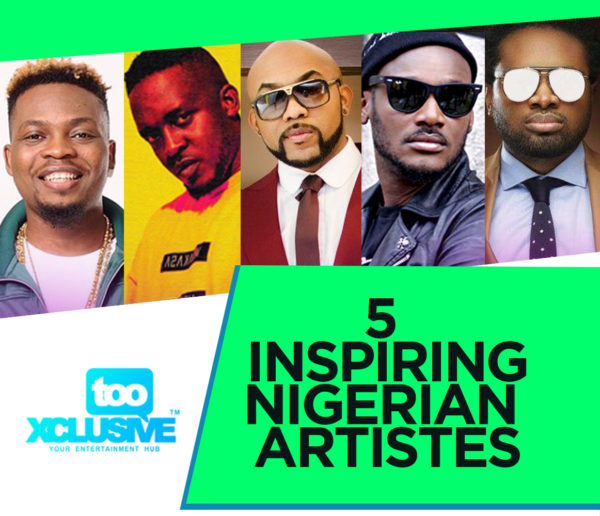 'Any work of art which is not a beginning, an invention or a discovery, is of little worth' – This is how I view every song, every painting, every writing, every speech and every artiste. I do not listen to artistes who do not inspire me. I feel like they take from me and give me nothing. That's why I always recommend that people listen to artistes whose lives are inspiring and those whose music, inspiration can be drawn from.
Everyone needs as much inspiration as one can get, to course through life. We need to feed off positive energies and channel these energies into our passion and drive to achieve success. So where do we get these energies and inspiration from – from music, from art, from artistes, from friends and more. I want to look at my favourite artiste, listen to his music, and be inspired. I want to look at his/her life and achievements and be moved to do same in my life. I expect you to do the same.
So I decided to draw up a list of 5 inspiring Nigerian artistes:
Olamide
From the streets of Bariga, he rose to prominence, hurdling over challenges and rising above the struggles to catch his date with destiny. Olamide's success story has become a lore told to every ghetto kid aspiring to make something out of life. Millions of young boys have found hope in his story. This believe has taken a central position in his artistry and his music feeds the streets with hope. Songs like Hustle Loyalty Respect, Anifowose, Eleda Mi, Letter To Milli are some of his most inspiring materials.
M.I Abaga
Music is a powerful tool. Hip-hop is a boundless source of inspiration even though it is often seen to promote violence and social vices. It is a tool that can be used depending on the handler, and for 10 years now, M.I Abaga has used his gift to inspire people. He has been a beacon of hope, brilliance and a role model to many. I felt particularly inspired when I heard his line, "tell me what it costs to be great, I'd pay the whole bill." It planted a seed in me that made me believe that if I'm willing to sacrifice, I can be great. M.I makes this list because of lyrical contents like that. He has also played a role in the success of people like Wizkid, Ice Prince and co. which should count as testaments to his inspirational character.
Banky W
"I connected to the spirit and mentality of what he was saying and it inspired me to go out and conquer my life." Banky W stressed the importance of listening to inspiring artistes when he said this about Jay-Z. Interestingly, Banky has been able to infuse inspiring elements in his artistry, and his lifestyle remains a model for people to learn from. He has managed to overcome setbacks to live a life full of wins which mostly can be attributed to his versatility in music, acting, film making and event anchoring. He sets a perfect example for aspiring young men on how to enjoying a successful business and romance life.
2Baba
He is called the father of many nations for his history with women and making babies, but beyond that, 2Baba has inspired a younger generation of Nigerian creatives with his achievements and the content of his music which carries a lot of social conscious themes and soul-lifting messages. When you talk of 2Baba, you remember his grass to grace story and it helps you believe that anything is possible.
Cobhams Asuquo
How he plays music instruments and how he turns the sounds into quality music even without sight, is a thing to marvel at. People think he is the one with disability but he sees himself as a man full of abilities and that's how his mind is set, that's how he trained himself, according to a friend of mine. Cobhams is one of the leading producers in the country with a penchant for making inspirational and soul-touching music and he has managed to do this without the privilege of having a functional eyesight. He is the Nigerian Stevie Wonder and if you're thinking it is impossible to achieve certain things when you're faced with challenges, the life and art of Cobhams should inspire you and help you faith hope.
Written by Oluwatobi Ibironke
@ibironketweets
The post 5 Most Inspiring Nigerian Artistes appeared first on tooXclusive.
Source: tooxclusive