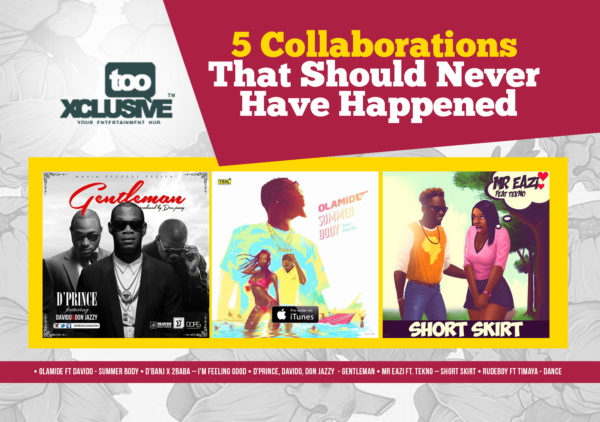 So much importance is attached to music collaborations in this part of the world, especially when it's a collaboration between two exciting music acts whose synergy has been imagined and is therefore put to test for a pleasurable experience of listening to a song created by a combination of brilliant efforts.
Over time, there has been several great collaborations between Nigerian artistes of different music styling and gifts but there have also been quite a number of epic fails that end up as 'dirt' under the carpet or in discussions about things that should be undone, provided the powers to do such were available.
Of the many failed ones, here is a list of 5 big-name music collaborations that didn't live up to the surrounding hype:
Olamide x Davido – Summer Body
Having an Olamide and a Davido on any song should be enough hype needed to treat the unheard material with high rating. You'd expect two of the biggest Nigerian artistes of different but workable music styles (like it was done on 'The Money') to concentrate their best music elements into their combined effort but this combination failed to form a masterpiece on 'Summer Body'. Rather, the mild buzz the song got beyond the big name factor it enjoyed, was because of the shady lyrical injection by Davido. Other than that, 'Summer Body.'
D'Banj x 2Baba – I'm Feeling Good
For what is a collaboration between the two most popular artistes of one generation, one would have thought the song would continue to be talked-about even seven years after its release but the reality shows otherwise. A song which hit the Internet in the thereabouts of 2011, featuring two artistes that have now been regarded as legends, is hardly ever remembered. I was even recently asked by a friend if D'Banj and 2Baba ever collaborated.
D'Prince – Gentleman ft. Davido, Don Jazzy 
Imagine a lineup of Davido, Don Jazzy bringing all of their mighty music influence and goodwill to a D'Prince song and it still didn't pop. The 2014 single is another 'expensive' collaboration which failed to make a mark.
Mr Eazi – Short Skirt  ft. Tekno
As far as the Nigerian music industry is concerned, Tekno and Mr. Eazi are two of the biggest breakout stars of recent years and the two singers have risen to an immense level of prominence, so their collaboration was met with high fever and intense anticipation, only to be served cold rather than hot like hit songs are served. The controversy surrounding the visual to the song did not help matters.
Rudeboy – Dance ft. Timaya
Oh this happened? It would take serious memory juggling to find scraps of thoughts about 'Dance', a collaboration between two singing heavyweights of different specialties that was previously married to produce a brilliant record, but on this record it fell flat.
Written by Ibironke Oluwatobi
@ibironketweets
The post 5 Nigeria Music Collaborations That Should Never Have Happened! appeared first on TooXclusive.
Source: tooxclusive