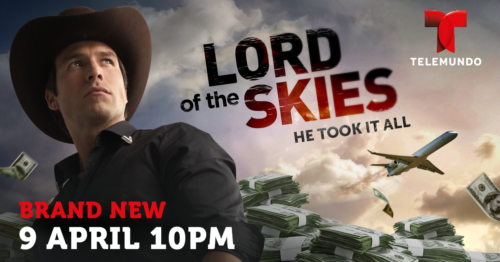 If like me, you were glued to your seat during the premiere of The Lord of the Skies, you'll agree that Telemundo has knocked this one out the park! With action packed storylines and mystery around every corner, there are many reasons to stay tuned to the all-new telenovela. Here's five reason's I'm already hooked.
# 1. The Passion
The series premier introduced us to Aurelio Casillas, a powerful man with many shady business dealings, who is also something of a lady's man. While Casillas is engaged to Ximena, he is also having a secret affair with Monica, a woman with ties to the Robles crime family. Casillas finds himself in a hairy situation when his lover tries to take him out and a shootout ensues that ends with Casillas's daughter Rutilia being shot. How will it all play out? You'll have to keep watching to find out.
 # 2. The Love
Despite Aurelio's unfaithful ways, it's clear how much he loves his family, and how far he'll go to protect Ximena. As we wait with bated breath for their wedding day, we'll first have to see what happens to Rutilia, and what the Robles clan has up their sleeves next! Watch this space for more.
 # 3. The Revenge
On a quest for vengeance, police officer, Marco Mejia exposes Aurelio and his life of crime. Why? It was Aurelio who killed Marco's father, which is why he's so motivated to catch him. This offers up a riveting storyline that's sure to keep you glued to the screen. The question is, will Mejia get the revenge he seeks?
# 4. The Intrigue
Telemundo's hot new telenovela is chock full of intrigue and after Casillas has been exposed by Mejia – his face plastered all over the tabloids and news – our leading man is forced to consider extreme plastic surgery to change his look, protect his family and avoid the authorities.
# 5. The Eye Candy
From Rafael Amaya, Gabriel Porras and Carmen Villalobos, to Raúl Méndez and Ximena Herrera, the beautiful stars of The Lord of the Skies are reason enough to keep us glued. Do you really need more of a reason to tune in?
If you didn't manage to watch the first episode, you can catch up on what you've missed Saturdays and Sundays at 10pm WAT from 14 April. For the rest of you, The Lord of the Skies airs weekdays at 10pm WAT on Telemundo (DStv Channel 118 and GOtv channel 14).
var VUUKLE_EMOTE_SIZE = "";
VUUKLE_EMOTE_IFRAME = ""
var EMOTE_TEXT = ["DOPE","TRASH","WACK","MAD JAM!","JUST THERE",""]
The post 5 Reasons To Stay Tuned To Telemundo's The Lord Of The Skies appeared first on TooXclusive.
Source: tooxclusive