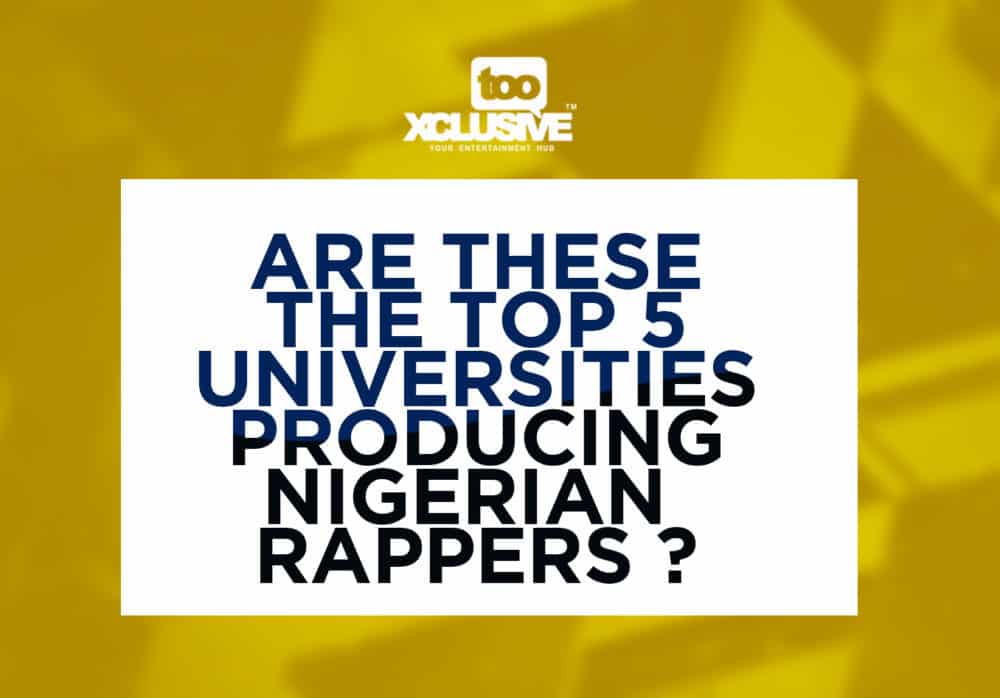 Over the years, Nigerian universities have given platforms to many up and coming artistes, including rappers, to fulfil their dreams of becoming music stars. A good number of these rappers start from making cyphers to doing battles and from there they cross over to the big stage. Vector's name comes to mind when one thinks of this rap career pattern.
Although it is rarely spoken of, school environs create an enabling atmosphere for music talents to grow. Universities particularly, perhaps because of their high level of social activities, have seen a lot of talents graduate to become music stars. At this point it is important to take a look at which universities have graduated more rap products into mainstream music.
(UNILAG) – The University of Lagos has a reputation for producing party starters, due to the social life of it's students, coupled with its advantageous location in the entertainment capital of the nation; students with interest in making music find it easier to network and pitch their talent to potential investors and a large audience of music enthusiasts, which ultimately leads to their music success. Also, with the high number of shows and music concerts available in UNILAG, the university's aspiring artists get to showcase their talents to an audience that is known to support their own. With these factors, the institution has produced rappers like Vector, Eldee, Sasha P and Phenom.
Lagos State University (LASU) – Considering that successful rappers likes Ruggedman, Kel, CDQ are products of the institution, one would have an idea of the rap music culture there. Even Olamide who did not attend LASU, admitted that the institution gave him a platform to shine, citing instances where he performed at shows held in the university. Like UNILAG, LASU's rising artists benefit from the proximity of the school to Lagos music centers, where they get to push their craft to become stars like CDQ, Ruggedman and Kel did.
TASUED – Tai SolarinUniversity of Education is not exactly the most popular students' gathering in the country and it's social life is never really talked about in the mainstream but somehow, it has nurtured two of the finest indigenous rap artistes ever to grace the Nigerian music scene – Da Grin and Olamide. The impact these two have had on the Nigerian Hip-hop culture led people to trace back their histories to TASUED. Even after the two prominent names, several promising rap acts have surfaced as products of the institution.
JOS – With the number of rappers who hailed from Jos, one would be tempted to think rapping and trapping is all they do there. M.I, Jesse Jaggz, Ice Prince and many more hailed from J-Town. There is a lore about the city being the Bronx of Nigerian Hip-hop. Till today, the city continues to produce rap acts with the likes of Bella Alubo and Efe being amongst the most recent products.
Foreign University Rap Products – While majority of Nigerian rappers are products of Nigerian universities, a significant number of them are returnees who studied at different foreign universities and returned to play a part in the growth of the hip-hop culture in the country. The likes of M.I Abaga, Naeto C, Poe and Falz are examples.
Written by Aishat Ibrahim
She writes via aishatibahim@gmail.comvar VUUKLE_EMOTE_SIZE = "";
VUUKLE_EMOTE_IFRAME = ""
var EMOTE_TEXT = ["DOPE","TRASH","WACK","MAD JAM!","JUST THERE",""]
The post Are These The Top 5 Universities Producing Nigerian Rappers? appeared first on TooXclusive.
Source: tooxclusive