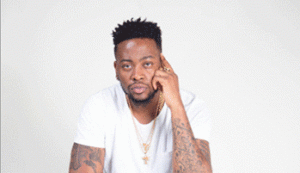 Following the eviction of Teddy A from the ongoing BB Naija reality show, the singer has received an open invitation from two clients of Temple Management Company, Iyanya and Bisola to collaborate on new projects.
The evicted BB Naija participant who showed traits of a dominant male, which earned him the nickname, 'Alpha-male', during his time on the show, would be looking to continue working on his career outside the BBNaija house, as a singer. Two reality show products who have become accepted as singers, Iyanya and Bisola, have both flung the door to a collaboration, open to Teddy- A.
The two singers who happened to be managed by Temple Management Company, made public invitations to Teddy-A on Instagram. On Instagram, Iyanya wrote,
"Yooo @iamteddya #Biko hit me up once you get into Gidi. Make we enter studio cook banger! #AlphaMale #BBNaija #TMC #BeTheMovement" 
While Bisola sent her own invitation by writing,
"Bruv @Iyanya, I need to be (in) that studio with you and @iamteddya. Let's do this! #BBNaija #AlphaMale #TMC #BeTheMovement"
From these posts, it can be deduced that the two singers appreciate TeddyA's music abilities and his persona as an AlphaMale. These posts have also been taken as signs that Temple Management Company might be interested in signing Teddy-A. It is however speculative but the story looks to be forming up.
See picture below.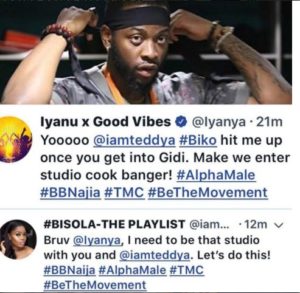 The post BBNaija: Popular Management Company To Sign Teddy-A? appeared first on TooXclusive.
Source: tooxclusive