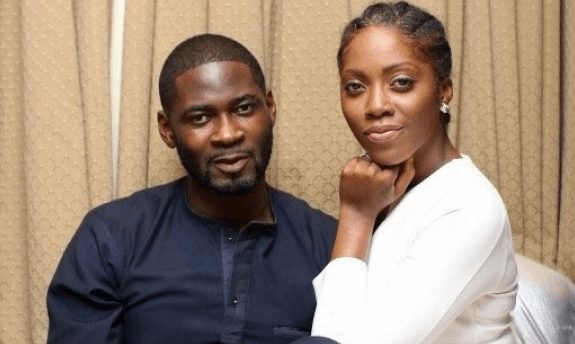 We are all too familiar with the details of the media spectacle made out of the union of Tiwa Savage and Tunji Balogun (Teebillz) back in the year 2016, following a series of dangerous revelations from both parties that involved grave accusations on the subjects of cheating, use of hard drugs and alleged witchcraft.
Music diva, Tiwa Savage took a lot of time under to work on reconciling differences with her then estranged husband. At some point, rumour had it that she had taken him back and the couple were seriously vesting efforts to finding their matrimonial joy again. There were even a few appearances they made at public gigs, the last being her performance at the 2017 AFRIMMA where TJ (as she fondly calls him) snuck on stage and surprised her with a kiss.
But at this time, all that 'gist' has been deflated as nothing but fable tales. Fresh reports have it now that Tiwa Savage has filed for a divorce from Teebillz. News bit making rounds online claim that Teebillz has since absconded to the US, and that for quite some time now, the couple had become estranged again. Part of this claim is backed by the evidence of TJ's obvious absence from social media affairs, which if we recall correctly, was the platform he used to air the dirty laundry back in 2016 when things degenerated badly for them.
Tiwa however seems to be really vested in her music and her son too, Jam Jam, who continues to make cute appearances on her social media posts. There's hardly any recognition, reference or even a mention of Teebillz, which further buttresses the wild thought that all is really not well with the couple.
As of now, we have it in good report that the marriage annulment is already underway as the papers have been presented before a court. Only time will tell how soon before it goes through.
The post BREAKING! A Divorce In The Works For Tiwa Savage And Teebillz? appeared first on tooXclusive.
Source: tooxclusive