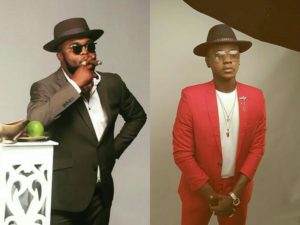 As against the earlier peddled false report that Kiss Daniel has won his legal battle against his former record label, G-Worldwide Entertainment, a trusted source has revealed that the case was only adjourned.
I was made to believe that Kiss Daniel had won the court case filed against him by his former label, G-Worldwide Entertainment and the singer had been reportedly cleared of the allegation that he breached an agreement in the binding contract with his old label but apparently, the report is false.
In a chat with Saturday Beats, a representative of G-Worldwide Entertainment, Louisa, said that the report was totally false as the case had only been adjourned until May. She said, "The report online that Kiss Daniel has won the case we have against him in court is not true; the case was adjourned till May 16, 2018. The case is still ongoing. We saw the report online and everything is false. The case has only been adjourned and since it is in court, I would not be able to say much about it. When everything blows over and it is settled, we would release an official report."
The post G-Worldwide Reacts To Claim That Kiss Daniel Won The Court Case Between The Two Parties appeared first on tooXclusive.
Source: tooxclusive