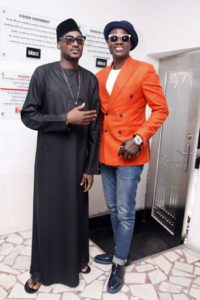 The friendship between 2baba and Sound Sultan has come a long way. It has produced beautiful memories that their fans would always remember and sometimes talk about. They share one of the strongest bonds in the industry of today.
However, in a chat with Saturday Beats, Sound Sultan revealed that although they seem to share a perfect understanding but they actually quarrel sometimes. He however stated that they usually settle find a way to settle it, sometimes in a bizarre manner.
He said, "The funny thing is that there is nothing that causes a fight between Tuface and me. If we have a misunderstanding, we make fun of it and settle it. That is the beauty of our friendship. Whenever we have a problem, we make fun of it and resolve the issue. We argue and it is more of a hobby for us but we realise that we must not always agree on an issue.
"We have never had a quarrel over women or music. When it comes to music, we connect greatly with our inspirations. We connect greatly. Money has never been an issue between me and anybody. It is not that I do not like money but I do not let it define who I am or erase some things about my personality. It is very important to uphold some things and stick by them."
Speaking briefly on his relationship with Tuface, the iconic singer said,
"Tuface and I started in the music industry a long while ago and when we started, there weren't too many of us in the game. We both started in FESTAC and by virtue of that, we were always together. Back then, it was just us living our lives. We grew to understand how we connected on different levels. Nothing can stop that kind of friendship."
var VUUKLE_EMOTE_SIZE = "";
VUUKLE_EMOTE_IFRAME = ""
var EMOTE_TEXT = ["DOPE","TRASH","WACK","MAD JAM!","JUST THERE",""]
The post How 2baba & I Settle Fights – Sound Sultan appeared first on TooXclusive.
Source: tooxclusive