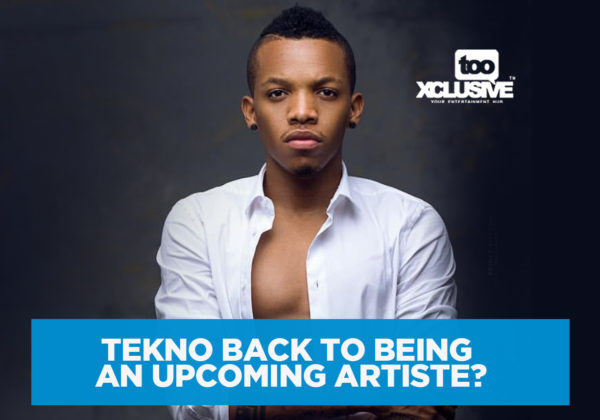 The crossing from being up and coming to becoming an established act is usually tough, rough and tortuously long. For an artiste like Tekno whose time, talent and effort had been heavily invested in the exercise of taking a leap from the base, seeing his songs become such highly-sought material in the Industry like they were in 2016, must have brought a taste of fulfillment to his heart. I imagine that he had his moments of revel when he said to himself, 'I made it against all odds.'
In fact, I rememer that he publicly bragged about owning the biggest sounds in an industry where the likes of Wizkid and Davido are still very much active and more surprisingly, his statement was left unchallenged perhaps because there was a grain of truth in it. At the time he made the statement, he was just coming off the heels of an immensely successful year which saw his releases rank among the hottest pop properties on the continent.
Tekno's fairly long streak of hit releases would have made even Wizkid turn green – Diana, Wash, Duro, Pana and the list goes on. There's a certain level an artiste would get to that he/she would be confident enough to ask for suggestions of song title from the public – that's the level of the greatest composers, those with the Midas touch, those with the rare ability to turn freestyles into classics. Tekno was in that realm. He was 'freely' dropping bangers like it was Christmas.
Interestingly, the Tekno fireworks continued even till the early periods of 2017 when he applied a portion of his magic in the production of Davido's record breaking song, IF. More of his gift manifested on Rara, so when the topic of a Tekno album was mentioned, the loud beat of drums were rolled – 'Teenage Dreams' he called it and his fans spread the word – 'a Tekno album is on its way, be prepared.'
But things started to fall apart for the self-acclaimed 'Slim Daddy.' His songs no longer got the usual wild buzz enjoyed by his previous offerings. Tekno went on a spree that saw him release 6 songs in about 11 months (1 song in 2 months) with the hope that he would strike gold with one but none of Yawa, Samantha, Go and his other releases of 2017 had the groundbreaking effect that Tekno needed to climb back to the realm he once dwelt in. He must have realized somewhere along the line that his problem has more to do with content rather than consistency.
So he made a last resort move to use the Wizkid factor to score a hit and wrap up 2017 on a high note but his attempt at creating a major inspiration piece like Ojuelegba, fell short of expectation. During a chat about Tekno and his failure on his promise to release an album last year, a respected music critic made a satiric statement. He said, 'Tekno has dropped his album in 2016', meaning that Tekno has put out his best materials in his year of rush.
His struggles are not limited to his musical releases, his stage performances too started to suffer from his dip in form. A friend of mine who saw him perform last year at the Jimmy Jump Off show in Lagos reported almost nothing good about Tek's performance. I remember he said that it was so bad that at some point Tekno had to say to the audience, 'if una no go dance, I go dance.' It got even worse when his dirty linen was spread out on social media by Kenyans who slammed him for his poor outing at The Wave With Tekno event held in Nairobi late last year.
Whether or not you're a fan of his, you'd honestly agree that the Tekno of today is not the Tekno of the heydays of 2016 that had the Panas, Dianas and IFs coming from his creative room. It sad but necessary to say that it seems Tekno has plunged to the dreaded point of little change where you find once-buzzing artistes with potential for great things, wasting away.
Written by Oluwatobi Ibironke
@ibironketweets
The post Is Tekno Back To Being An Upcoming Artiste? appeared first on tooXclusive.
Source: tooxclusive