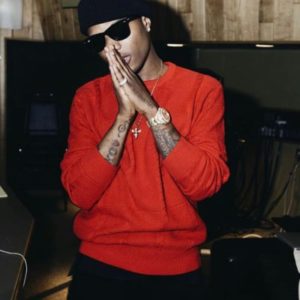 Wizkid caused a stir in the industry with a tweet that was termed to be a shade for Tee Billz, ex-husband of Tiwa Savage. We are here to tell you the fact about the tweet which you have not been told.
About three days ago, Wizkid tweeted that 'if I fxck ur girl, u're not getting her back' and rumors ran rife that it is a subliminal shade to Tee Billz. The rumor sprung from lore on the suspicious relationship that seems to have developed between Wizkid and Tiwa since her divorce.
However, the tweet has been discovered to be no shade, no subliminal but an act inspired by a line from a song that isn't Wizkid's. His decision to tweet the line at that time might have been intended or not; but it succeeded in tricking the public to believe that himself and Tiwa Savage have gone past the level of friendship.
The controversy-causing line 'if I fxck ur girl, u're not getting her back' has been found to be a reformed version of  a line used by American rapper, G- Eazy on a song titled Same Bitches. The song is the 14th track on Post Malone's beerbongs & bentleys album. The American rapper featured G-Eazy and YG on the Hip-hop record. G-Eazy contributed to the hook of the song and took the second verse. His line which must have inspired Wizkid to make the controversial tweet goes thus,
'I turn into a beast, I'm a dog, I'm a pitbull
This life did it to me, I can't switch back
If I take her then you'll never get your bitch back'
It is almost certain that while listening to Same Bitches, the Star boy heard G-Eazy's line and thought, 'wow, nice line.' Perhaps in an attempt to personalize the thought, he changed some of its element and put it out as a tweet that was easy to connect with his rumored affair with Tiwa Savage. Wizkid must have enjoyed the PR points the tweet earned him, no wonder he never saw the need to address the rumor. He must have had a good laugh about the wild rumors. Now that it has been established that the tweet isn't about Tee Billz or Tiwa. A lot of fans must be feeling what Jay-Z felt on Story of OJ when he said, 'Guess how I'm feelin'? Dumbo.'var VUUKLE_EMOTE_SIZE = "";
VUUKLE_EMOTE_IFRAME = ""
var EMOTE_TEXT = ["DOPE","TRASH","WACK","MAD JAM!","JUST THERE",""]
The post It's A Scam! This Is Where Wizkid Got That 'Fxck Your Girl' Tweet From appeared first on TooXclusive.
Source: tooxclusive