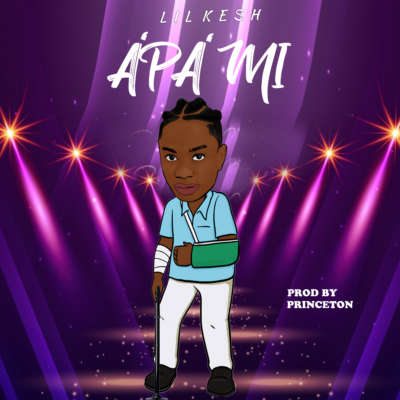 Mio rapa mi mo, E'banwa
Mio r'ese mi mo, E'banwa…
Lil Kesh peaked as an artiste during his days in YBNL, under the watchful eye of Olamide who introduced him to the niche of street-based audience which welcomed him as prince while Olamide remains King.
Even after gaining his freedom after the completion of his apprenticeship at YBNL, Lil Kesh continued to make music for the streets even though he struggled to maintain the high standards of his YBNL days during which he was earmarked for as future leader.
Leaving behind the relatively lukewarm 2017 which was far from his best music years, Lil Kesh looks to shake off the laden of fear and doubts in a mission of resurface from having been lost in the dark hole. He stretches his hands, offering a new song titled 'Apa Mi', to his audience with the hope that it would be accepted like his biggest releases under YBNL were.
TooXclusive team members reviewed Lil Kesh's 'Apa Mi' and here's what we think of it:
@ibironketweets In about 4 minutes of play, Lil Kesh's 'Apa Mi' succeeds in stimulating dance moves commonly seen in mainland parties, with the groovy instrumental supplied by rising producer named, Princeton.
Lil Kesh however leads me as a listener hoping for something of substance, near the point of being bored to death – irregular rhymes, repetitive words and unnecessary pauses that plagued what sounds like an almost catchy tune.
And much of the interesting features of the song can be traced to the application of Yoruba nursery rhymes which aced as the much-needed flair for 'Apa Mi' to be considered a club-friendly song.
@therealmarcusbrown Lil Kesh seemed to be one of those few talents who would grow on to be the dream of the Nigerian music industry but of late, it seems like the singer might have fallen off that radar because he hasn't churned out anything outstanding in the past few months.
Is Lil Kesh possibly on his way to redeeming that feat?
Well, 'Apa Mi' is that record which ought to put the rapper on track but unfortunately, the record is just one that is below par as the rapper cum singer tries his best to flow with the Shaku Shaku wave.
Talking about the production, Princeton just does the regular up-tempo beat for the dance floors.
Hopefully, in the nearest future, Lil Kesh might come out with something more tangible. But if you are just here to dance, 'Apa Mi' is that average dance track for you.
In the words of Henry Wadsworth Longfellow, we hope we find his footprints on the sands of time.
The post Lil Kesh Continues His Post-YBNL Struggles On "Apa Mi" appeared first on tooXclusive.
Source: tooxclusive