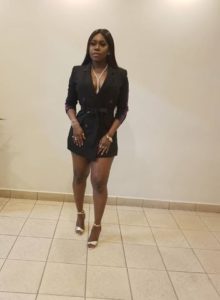 Following the backlash that ensued her below par performance at the recently held Headies award, Niniola has released a detailed explanation via an Instagram post.
The Sicker singer was dragged on social media for putting up a performance that fell short of her usual standard. Nigerians gathered to condemn Niniola for struggling with her vocals during her performance at the event and it was assumed that her vocals were bad because she was chewing gum while performing.
Niniola has however come out to explain herself. In her 2-part Instagram posts, she stated that she had just returned from a show in Owerri and did not have time to rehearse for the performance at the Headies Awards.
"I had flown in from Owerri after a performance yesterday (the afternoon of the Headies), to grace the Award event that has served as a platform for us as entertainers and I unfortunately could not rehearse with the Band or even work on any performance set for the Show. I promptly informed the ORGANIZERS and the Production Company engaged to oversee the flow of the Show that I would not be performing as I am very particular about my Brand and the performance delivery I give to my friends and supporters that have helped my career to the point that it is today.
I was informed that the song would be played and dancers would have their set to it. It was however to my greatest surprise that the Host called my name for the performance. Here I was, not dressed for a performance, stunned, dazed and in disarray. If I refused to stand up and respond to the announcement, I would come off as being arrogant and badly behaved (most likely comments would be made about how little fame and success have gotten to my head) since everyone knew I was in the hall. On the Flipside, if I went on stage, I was likely to be out of tune with the Band and the entire set which I had not rehearsed for," she wrote.
Addressing the issue of her chewing gum while performing on stage, Niniola wrote that she had the gum in her mouth before she was called on stage and she forgot to spit it out before climbing the stage to perform.
"In a confused state, I made the decision in that split second, out of respect to the organizers and my fans, to honor the call and put in the most that I could. While on my sit in the hall, I had been chewing gum to keep me awake as I was really exhausted from my prior performance and flight and I had not been able to sleep. In my rush to respond to the unexpected announcement, I totally forgot I had the gum in my mouth and got on stage."
See posts below.
var VUUKLE_EMOTE_SIZE = "";
VUUKLE_EMOTE_IFRAME = ""
var EMOTE_TEXT = ["DOPE","TRASH","WACK","MAD JAM!","JUST THERE",""]
The post Niniola Gives Reason For Poor Headies Performance appeared first on TooXclusive.
Source: tooxclusive