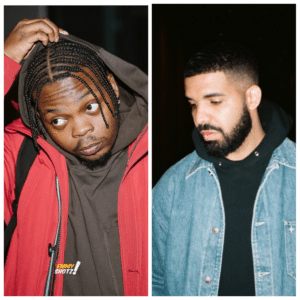 Speaking of similarities between international music acts and Nigerian music stars, the Drake-Olamide comparison is one that would take listening to songs by both artistes, to understand. Fans of hip-hop music would understand even better, the features common to the music of Drake and Olamide. Both rappers have cultivated the style of infusing pop elements into their rap music and have mastered the art to become best sellers in their different fields.
Olamide is to (Nigerian) indigenous rap, what Drake is to pop style hip-hop. Olamide evolved from being just a rapper into an artist who can deliver a killer rap verse and still put down a powerful hook, a formula that boosts the acceptance of his music and has helped him stay ahead in his niche, just like Drake, whose skill of singing and rapping has made him the toast of the global music community. Its the reason he commands a huge popularity size that transcends that accustomed with rappers.
Just like Olamide is the nearer than other Nigerian rappers, to the realm where the likes of Wizkid and Davido operate; Drake is just as popular as International pop stars, a rare feat for hip-hop artists even in the "capital of hip-hop" – US.
Written by Oluwatobi Ibironke
Twitter: @ibironketweetsvar VUUKLE_EMOTE_SIZE = "";
VUUKLE_EMOTE_IFRAME = ""
var EMOTE_TEXT = ["DOPE","TRASH","WACK","MAD","JUST THERE",""]
The post Olamide v Drake – Who Would You Prefer? appeared first on TooXclusive.
Source: tooxclusive