Join in, win prizes, and become part of the family
Lagos, Nigeria, Jan 23
One is known to be the fastest browser out there, the other to have the voice of an angel, and now Opera and Simi have joined forces to present to you the #OperaConfam challenge, and the best part is, absolutely all of you can take part in it.
The X3M music singer, songwriter and vocalist teased fans recently, explaining good things were coming, with over 160,000 of her followers liking, sharing and loving her post on Instagram and for good reason – Simi has been chosen to help introduce a new stand-alone news and video app called Opera News, available to Nigerians to download for free right now and a product you cannot live without.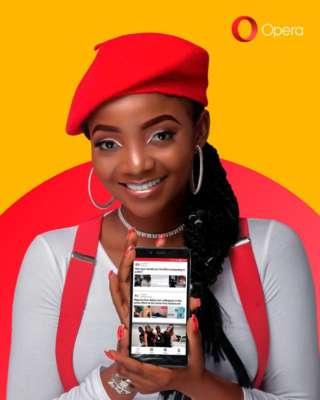 Opera News
The 'Smile With Me' singer will promote the benefits of Opera News, which has the hottest entertainment gossip, trending video, a dedicated football channel, latest music updates and also serves the big stories of the day in Nigeria, as well as local news in 20 other countries spanning the continent.
"Opera already has the best browser in the market, Opera Mini. It saves you data and speeds up browsing. The new Opera News app is a great addition to that. It puts all the sweetest news and gist right at your fingertips," explains Simi.
And the launch of Opera News begins with #OperaConfam.
What is #OperaConfam
It is a campaign designed to be fun and funky, with winners receiving ace gifts and even getting the chance to meet and chat to the award-winning singer herself. Simi explains exactly what you have to do:
"Download the Opera News app from the Google Play store and try it out. Then post a creative picture or video of you, saying what you you like best about Opera News, tagging me and Opera. The best posts will win great prizes – and the more likes you get the better chance you have to win – from smartphones to swag bags, and also the chance to hang out with me. Follow Opera on social media to learn more about the contest. It's going to be lit, seriously."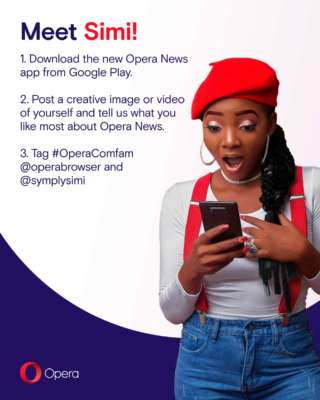 But the partnership doesn't just begin and end with #OperaConfam. Simi will be helping Opera over the coming months on a number of creative campaigns designed to help millions of people see more of the amazing benefits Opera's products can bring to everyone's daily lives.
Just. Watch. This. Space.
Hurry up – get liking Opera and Simi on social media right now and join in with thousands of others in the #OperaConfam challenge.
The post Opera & Singing Sensation Simi Team Up For The Immense #OperaConfam Challenge appeared first on tooXclusive.
Source: tooxclusive