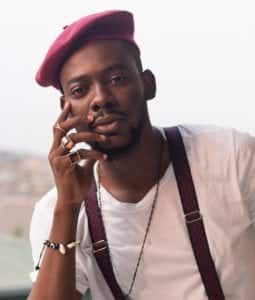 Singer, Adekunle Gold is doing a great job with the fan experience of his About 30 album. The singer recently released the album which serves as his sophomore album and he is going the extra length to carry his fans along.
The promotional strategy of the About 30 album has been described as unconventional, ingenious and welcoming. Adekunle Gold is treating his art like Speed Darlington treats his scorpion-tail hair. 'Dekunle detailed the album creation process to the very last detail and shared it with his fans. He created a website to foster a relationship between him and his fans; and prepared a colorful listening session to improve their experience of the project.
Now, the singer is preparing to release the video of one of the constituent songs of the album – FAME; and instead of the usual approach, he is preparing his fans ahead of the video release with a trailer and a letter that shows just how much he cares for his fans and considers them an essential part of his art.
See letter below,
Hey Fan, 
I really love being able to talk to you this way. It's so crowded out there and I feel you are genuinely paying attention here. The video will be coming out shortly but before it does, Let's talk about FAME.
The truth is this song was borne out of depressed place. I hate to throw that word around, to be honest I am embarrassed by it. But I don't want to minimize the struggles of others out there who also feel like their pain is not valid because it's not tragic enough.
You see this thing called fame, its weird, the opportunities and exposure it has accorded me has also made me very isolated. I've come so far but still have so far to go. This feeling that I've outgrown my old life and at  the same time not caught up with who I think I am is a stuck feeling.
I've also struggled deeply with my artistic confidence. There are many ways I want to express my talents but there's a small choir in my head that sings "don't change", and I am infact changing. I don't know… is this too much? I'm a bit uncomfortable typing this. People have bigger issues right?
Anyway there is a light at the end of that dark tunnel, believe it or not, music is as much my medicine as it is my business. My healing has always come from having an outlet to express myself and having the love of my loves who constantly play tug of war with my heart pulling me into the light. Also thankful to Efe Oraka for helping me put some of those feelings into words.
Let me leave you with this, your pain is your pain, It is never too little or too great to seek help if you can't deal anymore. I support anything positive you do to ease your suffering. For me, it's music. I hope you enjoy FAME.
Love,
AG
Watch video below.

var VUUKLE_EMOTE_SIZE = "";
VUUKLE_EMOTE_IFRAME = ""
var EMOTE_TEXT = ["DOPE","TRASH","WACK","MAD JAM!","JUST THERE",""]
The post [READ] Adekunle Gold's Disturbing Revelation About Himself In Letter To Fans appeared first on TooXclusive.
Source: tooxclusive