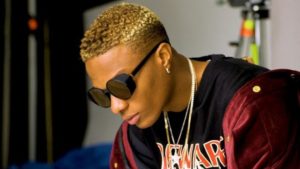 Music is mostly considered as a material of entertainment, but it has proven overtime to be more than just a thing of amusement. It is a powerful social tool that artistes like Bob Marley, FELA used to influence other areas of human life like politics, and it seems Wizkid is starting to tow that line.
It is no secret that Wizkid enjoys singing about women, their beauty and sexiness but his lifestyle is inspiring, especially to millions of people across the world, most of whom are Africans. He is a known philanthropist who takes special interest in supporting young African creatives and his effort in tutoring artistes like Mr. Eazi, Terri and Spotless, Ahmed is earned him his reputation as a mentor to young talents.
The Philanthropic Gesture
The singer pulled another philanthropic gesture recently, when he reacted to a video of a certain young boy who fixes car tyres named Basit. The video shows Basit confidently sharing his dreams of becoming rich enough to rock Gucci wears, a tag that ties into Wizkid's soon-to-be-released song.
Gucci snake otw????????????? pic.twitter.com/1qIoyuNILI

— Wizkid (@wizkidayo) 24 April 2018
In reaction to the video, Wizkid asked for the boy to be brought to him and like he promised on 'Soco', the Starboy blessed Basit.
We sending Basit to school! Bring him to me ???

— Wizkid (@wizkidayo) 24 April 2018
Found My gucci boy! Daddy yo got u! ???? pic.twitter.com/UGqxhMgWQb

— Wizkid (@wizkidayo) 24 April 2018
Attack on President Buhari's Government
Following this action, Wizkid took a swipe at the government of the day, decrying the state of things in the country and stressing that there is little he can do as an individual. He did all these via a tweet which read,
Me sef need help o. Na we go help ourselves! Because this our government na Kpef! ???????? https://t.co/5JO0dqha4G

— Wizkid (@wizkidayo) 24 April 2018
Talks about his entry into politics
Wizkid's philanthropic gesture and his active criticism of the hardship caused by the failing policies of the incumbent government, has sparked talks about his fit for the position of Nigerian president.
Starboy for president edakun????

— Bamichey?? (@lord_bamz) 24 April 2018
President Ayodeji Balogun?

— kay_official (@kayode10_) 24 April 2018
His campaigning for youth involvement in politics
In reaction to the talks about him running for President, Wizkid stated that his interest in politics does not go beyond campaigning for candidates with potential to correct the ills of the Nigerian community and he urged his followers to get their Permanent Voter's Card (PVC) and do same. 
Wizzy don join opposition! ? https://t.co/uET0eyC5yT

— Amara Nwankpa (@Nwankpa_A) 24 April 2018
I no join anybody o! 2019 i dey campaign for who get sense! https://t.co/gktf4xlPYA

— Wizkid (@wizkidayo) 24 April 2018
Y'all better get your PVC's Nigerian Youths! ?

— Wizkid (@wizkidayo) 24 April 2018
var VUUKLE_EMOTE_SIZE = "";
VUUKLE_EMOTE_IFRAME = ""
var EMOTE_TEXT = ["DOPE","TRASH","WACK","MAD JAM!","JUST THERE",""]
The post See Why Wizkid Is Being Tipped To Be Nigeria's Next President appeared first on TooXclusive.
Source: tooxclusive