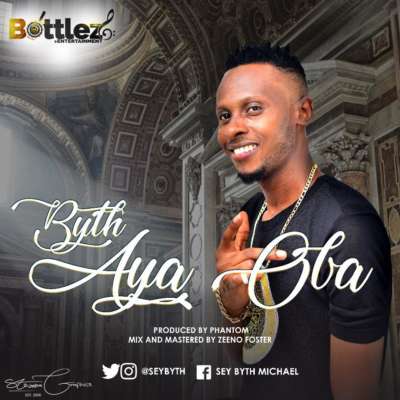 Bottlez Entertainment's multi-talented singer, Michael Samson Oluwaseyi, popularly called by is stage name, 'Sey Byth', has returned with brand new catchy tune titled 'Aya Oba' after his short hiatus from the music industry.
Despite Sey Byth's short break, he reemerged better and bigger to give his fans enjoyable fresh single, 'Aya Oba', produced by one of the most respected music producers in the industry Phantom, mixed and mastered by celebrated sound engineer, Zeno Foster.
'Aya Oba', meaning King's wife, which can also be regarded as a 'Queen', is a catchy love tune that's perfect to eulogize one's female lover.Sey Byth, on the song, poured out his emotions and let the world know how deeply he's in love with his 'Queen'.
Speaking about the song, Sey Byth said, "I'm not a novice in the industry and without pride, I know what works and what doesn't. 'Aya Oba'as the title goes is a love song and a song fit for all marriage ceremonies in the country, still enjoyable in recreational centers, club houses, cool spots and even on the streets."
"The idea I had before recording the song was to create a meaningful song that will suit diverse purposes. Following the reviews of industry executives and key players in Nigerian music industry, I'm confident that 'Aya Oba' will make its mark in the industry," he told My Craft, a platform showcasing and promoting real talents.
Sey Byth has worked with top-notch music producers like D'Tunes, Del'B, Classic and many others, he has also shared the stage with A-list musicians in Nigeria. With the backings of Bottlez Entertainment, Sey Byth promises more catchy songs that also have reasonable and captivating lyrical contents.
Listen to the evergreen tune, 'Aya Oba' as rendered by Sey Byth and ENJOY!
Sey Byth – Aya Oba (Prod. By Phantom)
The post Sey Byth – Aya Oba (Prod. By Phantom) appeared first on tooXclusive.
Source: tooxclusive