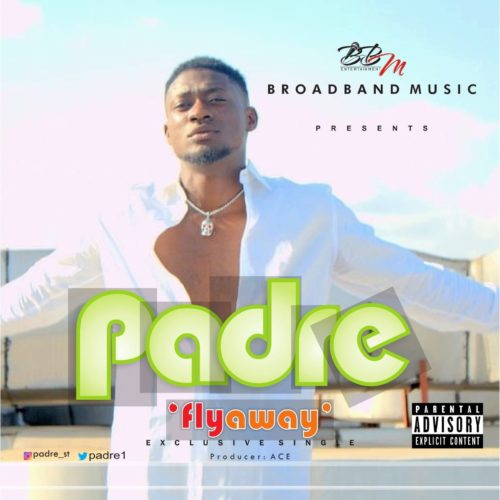 BroadBand Music is set to infiltrate Nigeria music scene with an arsenal of Afrobeat with an infusion of pop culture tracks.  Currently signed to the label is Adeola Abimbola Bakare aka Padre (formerly known as Spicy.) The brand specializes in incisive, infectious and incendiary art. With speakers blaring and guns blazing, the assault is fully underway. For Padre, he stands out as an extension of his revered and applauded musical persona. "I come from the hip-hop-influenced side of music, and I intend to create a haven for my style," he explains. "There are many renowned and talented music producers in the industry at the moment who I intend to work with to bring out the best in me, he explained".
"Most of the kids on the block now are young bloods," he goes on. "They're killing it at the moment. We're the future, and it's exciting to be a part of that. I am looking to join the family too, but it's not about one genre either. I want to sing whatever wrecks the dance floor and makes people happy, Padre further explained"
The label Broadband Music which just fully sprung into active music having taken so much time to strategize will unveil the signed artiste at a press parley. The date of the event is to be made public soon.
Padre's specialty is content filled sound. A graduate of Mass Communication from Bowen University Nigeria, this young artiste had teamed up with the popular hitmakers, D'tunes and Gospel for his first official tracks – "Lenu" and "Relax" in 2013 and 2014 then as Spicy. The tracks enjoyed massive radio airplay across the country and online downloads. Padre then had to complete studies at Bowen and has come back re-energized, re-invigorated and re-branded for the next phase of his career. His new Song –Fly Away produced by ACE(Mickey Mouse) is a blend of the contemporary Alternative Music genre set to dominate the scene for a long time.
In his exact words, "Now, it's just about building an entity that will last and a brand the audience believes in. "I want fans to put their trust in me," he affirms. "I want them to anticipate every release. It's important they know when we're putting out a track and it's going to be a smasher."
Ultimately Broadband Music and Padre stand primed to blow the doors open for a whole new movement in Nigeria Music industry. Padre who also doubles as the CEO of the label, added "We want the world to know the Broadband Music is a brand that has studied the music scene over time and is here to stay.
We're a rare breed, and we'll be blowing up dance floors around the globe."
var VUUKLE_EMOTE_SIZE = "";
VUUKLE_EMOTE_IFRAME = ""
var EMOTE_TEXT = ["DOPE","TRASH","WACK","MAD JAM!","JUST THERE",""]
The post [Song] Padre – "Fly Away" appeared first on TooXclusive.
Source: tooxclusive