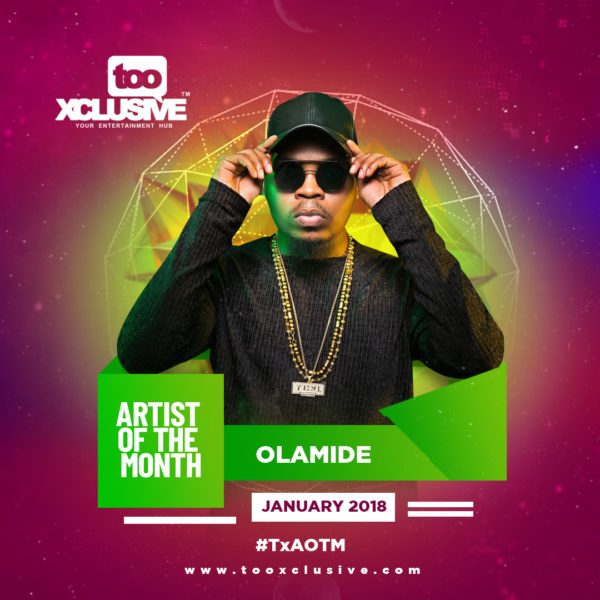 The industry has many exemplary personalities; hailed by many but emulated by few. Olamide is one of such examples, and the switch-up, which he used to kick-start the affair of trends in the music industry, early in the 2018 year is why he is our #TxAOTM for January.
Olamide's active music service has stretched out a span of roughly 8 years, and it hasn't been an entirely smooth odyssey void of it's own thorns enroute, yet he always finds a way to come out tops. As a musician, he has delivered satisfactorily to the demands of his fans. As a trend setter, he continues to find newer and exciting ways to dictate the tone and direct events that rescues our temporary drown in murky waters. And as a people personality, he encourages unity and commands positivism amongst the youth folk in areas that concern music, and relates to our civic responsibility as individuals.
Olamide's consistency is why his career enjoys a progressive course. I perceive it to be sort of like a self-evolution process, which is why I also think that he might never need the trend of the pon pon or shaku shaku sound to sustain his relevance; but still, his versatility makes him an easy fit for whatever music genre or fusion form can concoct. It wasn't until Wo! hit the viral status (special props to the Shaku Shaku dance) before we started to pay attention and accord the pioneers of the sound, their due credit. So now that everybody is dancing shaku shaku, or crafting out personal compositions influenced by the sound, it is only proper that we acknowledge the power behind this successful takeover – the man, baddo!
Written by Jim Donnett
@jimancipation
The post TX Artiste of the Month #TxAOTM – "Olamide" appeared first on tooXclusive.
Source: tooxclusive